RC4Magic Series 3 Wireless Dimming (2.4GHz)
Showing all 14 results
What is Wireless Dimming?
Check out our informative tutorial and demonstration videos.
Using batteries for power and wireless DMX for control, RC4Magic wireless dimming puts lighting in costumes, props, set pieces, turntables, and more. Controlled from your DMX console, seamlessly integrated into your scenes and cues, RC4Magic devices are transparent to the lighting designer, as responsive and robust as any other fixture in your show.
"Inspired by the Apple iPhone and the Leatherman multitool,
RC4 Series 3 technology delivers unparalleled versatility
to propmasters and show electricians around the world."
James David Smith, President and Chief Product Designer
RC4 Wireless
Secure

Every RC4Magic user and project is assigned unique and private RC4 System IDs.  Other users will never interfere with you, no matter how they have configured their equipment.  Their IDs are theirs; your IDs are yours.
Versatile
If there is one thing we've learned in our 20+ years developing the world's leading wireless dimmers, it's that RC4 customers will forever re-invent what entertainment is, endlessly presenting new challenges for our technology.
All RC4 Series 3 devices are the embodiment of innovations requested by customers like you for over two decades.
Learn more about all the features and functions built into every RC4 Series 3 device.  Discover RC4 Harmonized Design™.

Compatible with RC4Magic Series 2

RC4Magic Series 3 devices maintain wireless compatibility with RC4Magic Series 2 devices, right back to the first systems sold in 2007 (and firmware updates are always free for Series 2 and Series 3 devices).  As a leading supplier of wireless dimming worldwide, we understand and respect the investment you have made in RC4Magic technology.  Series 3 introduces many new and exciting features (detailed below).  You can add these features to the Series 2 system you already have, simply by purchasing Series 3 devices programmed to your existing RC4 System IDs.  Real Easy.™

RC4Magic Series 3 DMXio Transceivers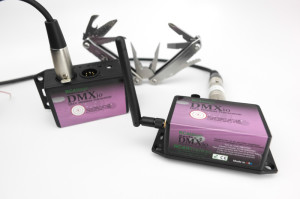 As a system transmitter, the DMXio decodes the incoming DMX universe, encodes and encrypts it with your unique digital system ID, and broadcasts it using Direct Sequence Spread Spectrum (DSSS) digital radio. Unlike wired DMX, the broadcast signal includes error checking and correction codes, and is not affected by minor interruptions and interference.
As a receiver, the DMXio decodes the rf signal from the transmitter, rebuilds the DMX universe, and regenerates a standard DMX signal with the same number of channels and the same packet rate as the data going into the transmitter. DMX in and out are compliant with USITT DMX512/1990.
Dimmers for Lamps, LEDs, Motors, Servo Motors, Relays, and More
Every RC4 Series 3 receiver/dimmer device is as small as possible, handles power as efficiently as possible, and performs almost any low-voltage task imaginable.  Simply put, nothing like this has ever been created before.
From the tiny DMX2micro, which fits in a 0.75″ (19mm) inside-diameter tube, to the DMX2dim and DMX4dim workhorse devices, to the high-power DMX4dim-500, all RC4 Series 3 dimmers include all RC4 Harmonized Design™ features and functions:
Click on specific devices above for additional information including specifications, product images, and user manuals.