Product Details
DMX-Controlled 64-Channel 6V – 35VDC Lighting and Motion Controller
The DCshow64 provides 64 DMX-controlled low-voltage power drivers intended for motors, lamps, LEDs, solenoids, relays, and most other electrical load devices. Limit switch inputs for each driver facilitate end-of-travel shut-offs without the need for high-current inline switches. The DCshow64 is ideal for parade floats, mobile theatrical set pieces, animatronic characters, and more. The new 2017 revision accommodates input voltage from 6V to 35VDC; 12V or 24V battery arrays are most typical.
A 5U rack chassis provides card slots for one master controller card, and 16 power driver cards. The standard master controller card provides an optically-isolated DMX data input, and USB port for configuration of driver cards via PC software. Two different driver card types are available : the UNIDIR4 quad unidirectional driver, and the BIDIR4 quad bidirectional driver. Other card types are planned for future release.
Each power driver can be assigned to any DMX control channel. In addition, a global-enable DMX channel is used to enable/disable all drivers on a card, and is usually the same channel for all cards in a rack. Power is delivered via 17KHz pulse-width-modulation (PWM) for silent operation, with either a linear, inverse-square-law (ISL), or non-dim power curve. Each driver is protected with built-in over-current and over-temperature shutdown, and the over-current threshold is user adjustable for each individual driver.
The UNIDIR4 works much like a 4-channel dimmer card. Each of the four drivers can deliver more than 10A continuous. This card is ideal for lighting, motors that only need to run in one direction, solenoids, relays, air brakes, and more.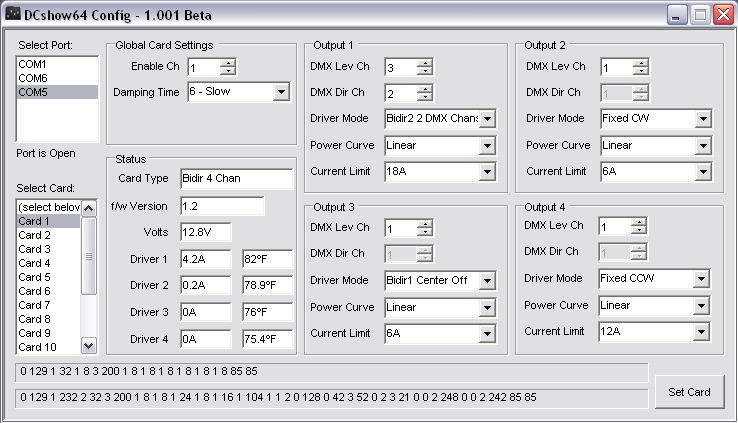 The BIDIR4 card provides four 10A H-bridge drivers, suitable for running DC motors in either direction, fully reversible. Regenerative deceleration ensures fast motor responsiveness. The user can select from several
different operational modes for each driver, including one- and two-channel motor control.
Energy-saving thermal management ensures quiet operation. A network of cooling fans is engaged only when required to remove excess heat from the chassis.
In the event of an over-current shutdown or blown fuse, a rapidly blinking LED quickly draws the eye to the source of the problem.
All control parameters are configured using DCshow64 Config software on a PC, connected to the rack unit via USB. From the software, any driver card can be selected. Parameters applicable to that card are displayed for adjustment, and can be edited and sent back to the card with ease. Configuration data is stored on the card in non-volatile flash memory.
DCshow64 Version Management
DCshow64 Config Software
Driver Card Firmware
DMX Input Card Hardware
Unidir Driver Card Hardware
Bidir Driver Card Hardware
Release 1.100 for use with Driver Card Firmwware 1.5 and higher. This version adds range scaling to each power output.
Download software.
Version 1.2 Shipped prior to Apr-2010.  Version 1.5 Shipping Apr-2010. This version adds range scaling to each power output.
Current version (2016) is 1.8.
R1 Oct-09 manual h/w changes for R1.1 Dec09
R2 Feb-2010
R3 Dec-2016
R1A Oct-09 manual h/w changes for R1.1 Dec09
R2 Feb-2010, Shipping Apr-2010.
R3 Dec-2016.
R1A Oct-09manual h/w changes for R2 Dec09R2
Feb-2010, Shipping Apr-2010
All features working.
All features working.
R1.1 Input surge arrest components added manually. R2 Improved RS485 compliance. USB port now powered by host and/or rack.
R3 Dec-2016 with wider voltage range and power efficiency.
R1 All features working.
R2 Reverse order of outputs on rear, to match BIDIR4 card.
R3 Dec-2016 with wider voltage range and power efficiency.
Extremely fast hardware-based over-current shutdown disabled
after hardware changes implemented. To be restored with next
design revision. moderately fast software-based protection is
in place and working.