Toronto – RC4 Wireless, manufacturer of wireless lighting and motion technology for theatre, film, and television, has launched a completely redesigned website at https://theatrewireless.com.
If you've been thinking about wireless dimming and DMX, or wireless motion control, for your next theatre, film, or television production, have a look at https://theatrewireless.com.  The new site is full of useful information, and not just about RC4 products.  "Getting into wireless and making the most of it really demands a bit of general knowledge about different kinds of batteries, about the various rf bands and frequencies being used, about what's involved in getting DMX and other kinds of control information into the air and back again.  Without facts it's difficult to make an informed decision about which product is right for a particular application," says James David Smith, president and chief product designer at RC4.  "We're not the only manufacturer out there.  Our equipment is excellent for numerous applications.  But I'm also the first to admit that others have focussed on different niches and make products that may be more ideal for specific uses.  At the core of all this — of finding the stuff you need — is knowledge.  I'm putting straight-up unbranded information out there.  Keep an eye on the Learn More About section of theatrewireless.com.  Post questions.  Watch this area continue to grow well into the future."
The new RC4 site also makes it quick and easy to purchase RC4 products, and they ship everything by Fedex Priority.  Place your order before 4pm EST and receive it the next business day (some exceptions apply).
Prefer to see and test-drive before you buy?  The new RC4 website provides contact information for a growing family of RC4 Partners around the world — select dealers with extensive product knowledge and stock on hand when you need it.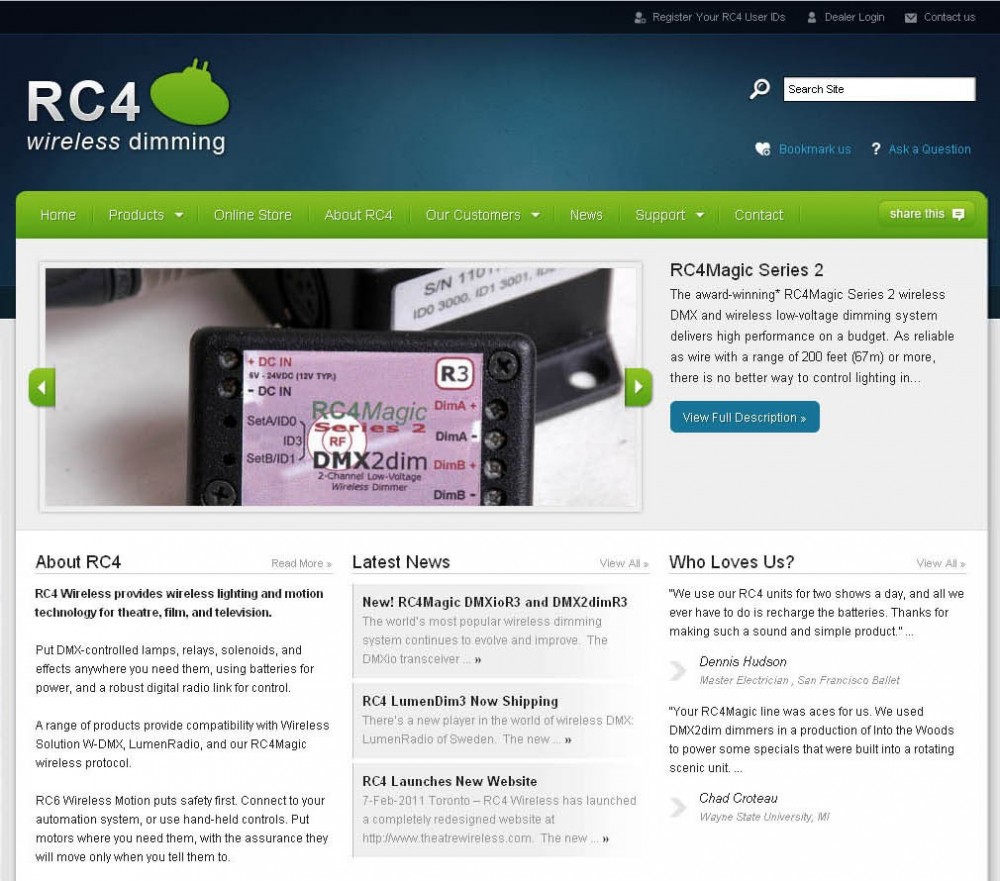 ***
Contact:
James David Smith, President
RC4 Wireless
13604 Heathwood Court
Raleigh, NC, 27615
USA
Toll-Free North America: 1-866-258-4577
London, UK: +44 020 3289 8765
Skype: theatrewireless
email: moreinfo@theatrewireless.com
[contact information updated Feb-2012]